Inle Lake was one of my favorite parts of our Myanmar trip.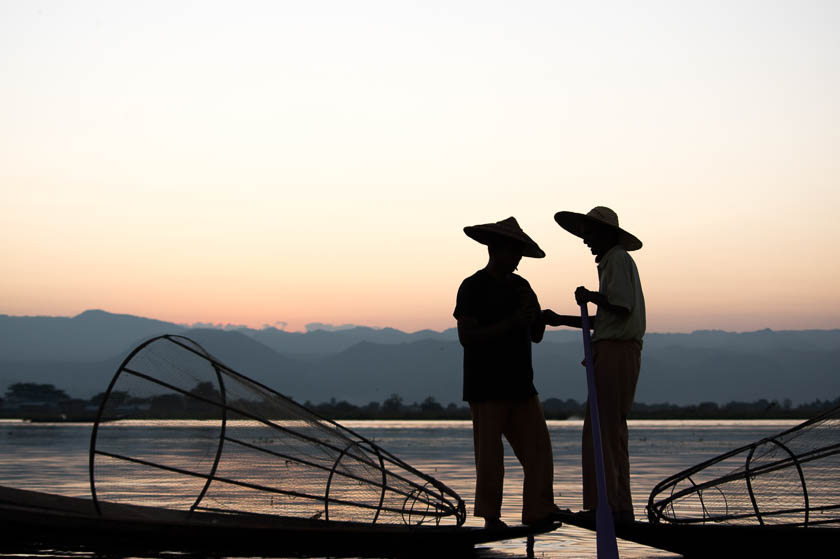 We boarded two long tail cargo canoes (for us and our luggage) to get to our hotel. The canoes are motor powered and took us over an hour to reach the Golden Island Cottages. Yes, all transportation is by boat. Inle lake is not deep. Probably no deeper than six feet in most places. The long tail boats were our transportation for our three days in this area.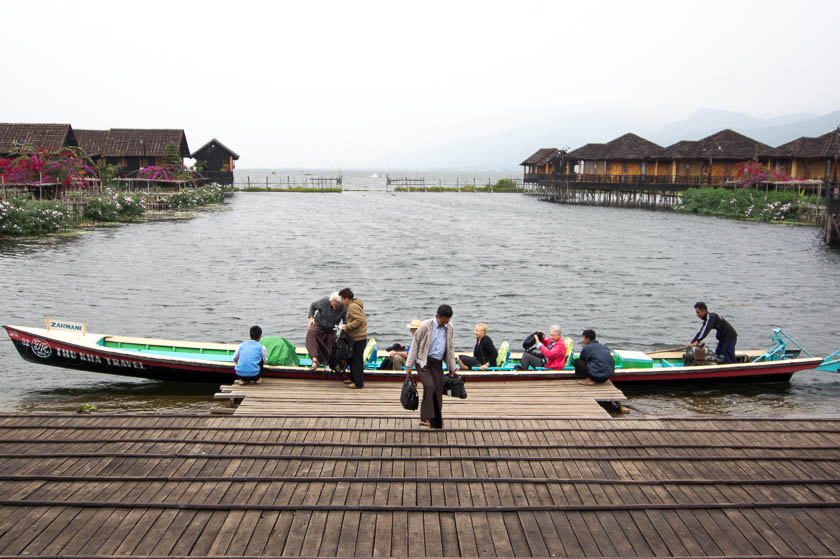 On our way to our hotel two of the guys threw feed up to entice seagulls to hover overhead so we could get some good photos. I love how in the first photo it looks like a gull scolding another.
On our way to the hotel we passed numerous leg rowers casting their fishing nets. They are so picturesque.
Fishermen also use this technique after setting their nets in the lake. They use their oar and splash it down into the water at the opposite end of the canoe from the net. This is done to scare the fish and to encourage them to got into the net.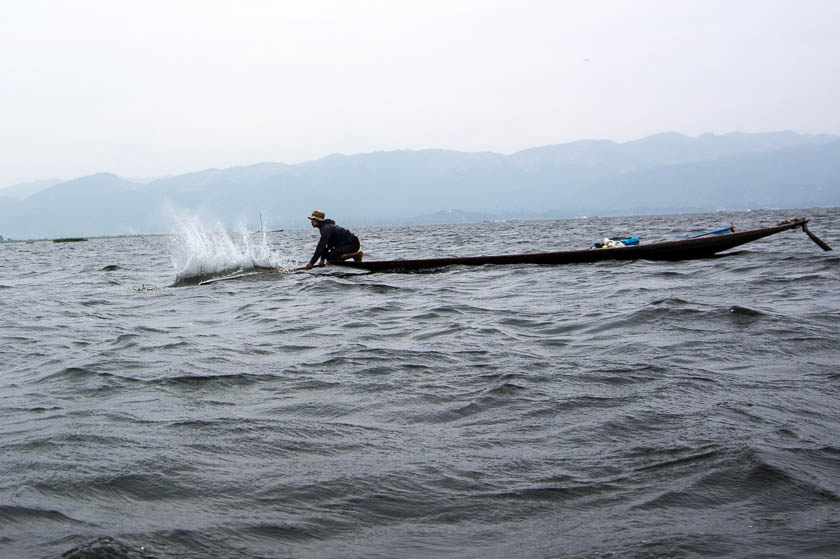 Upon our arrival at our hotel, the staff was singing and playing instruments to welcome us. We were also presented with hot tea each time we arrived at the hotel from our many excursions each day.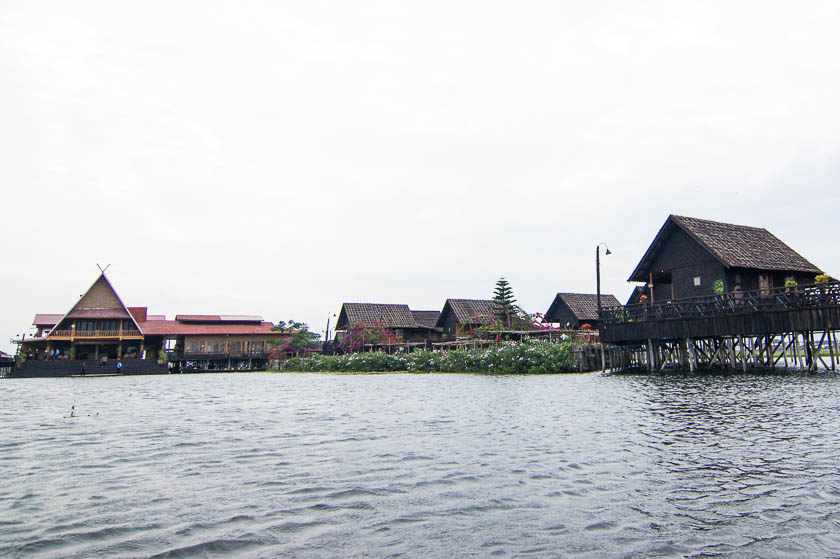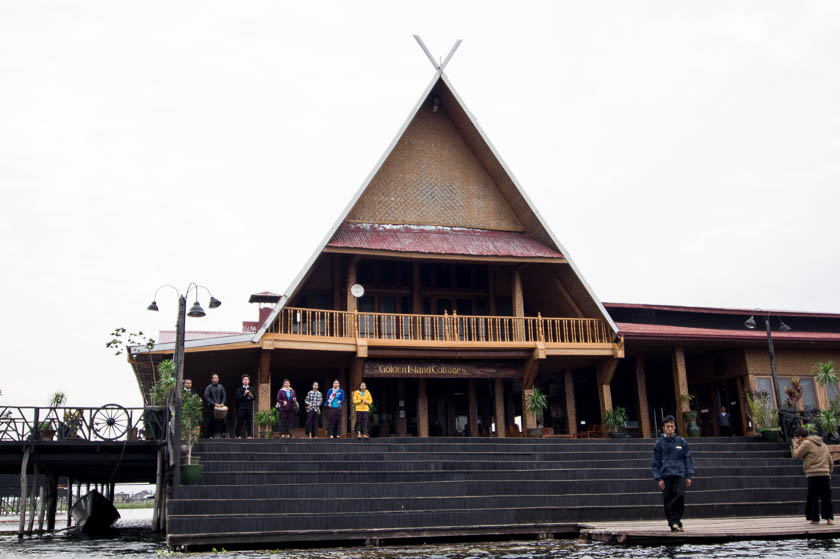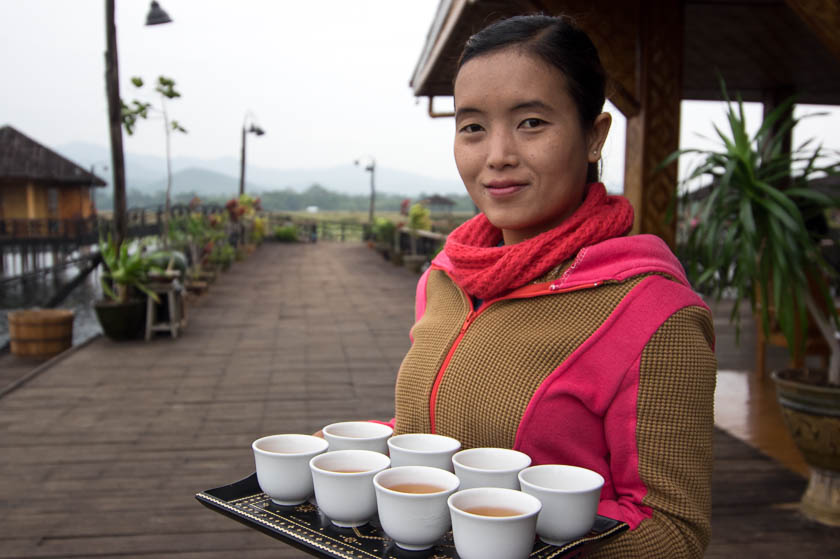 We each had an individual cabin on (actually in) the water.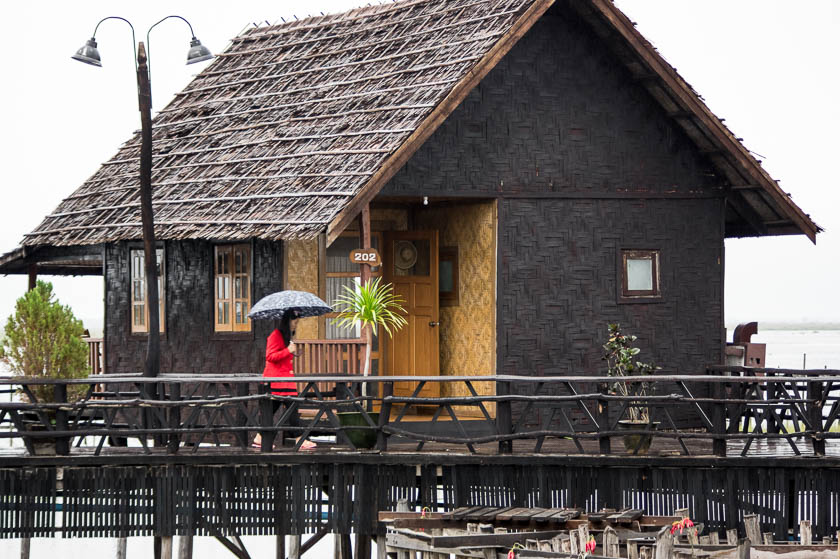 My cottage was lovely.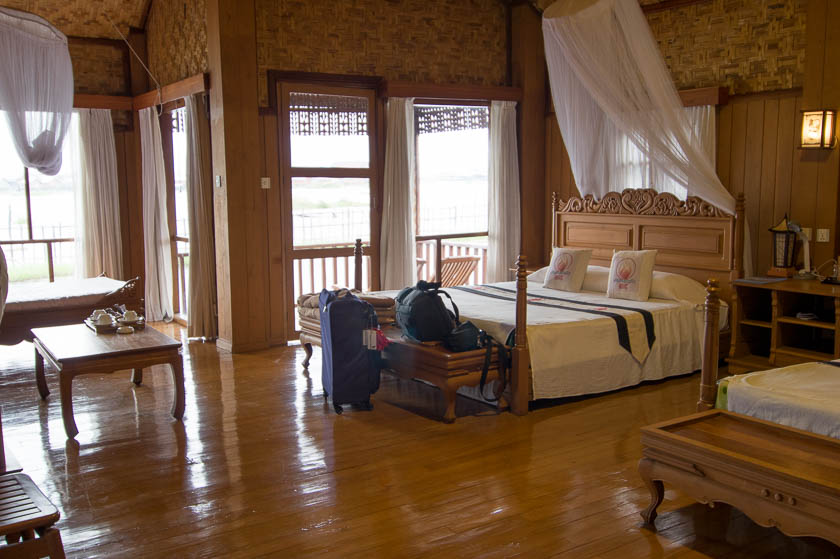 Though it never rains in December in Inle, it did so we had to make the best of it. On our way out to visit shops in the area, we saw how the people live in this area.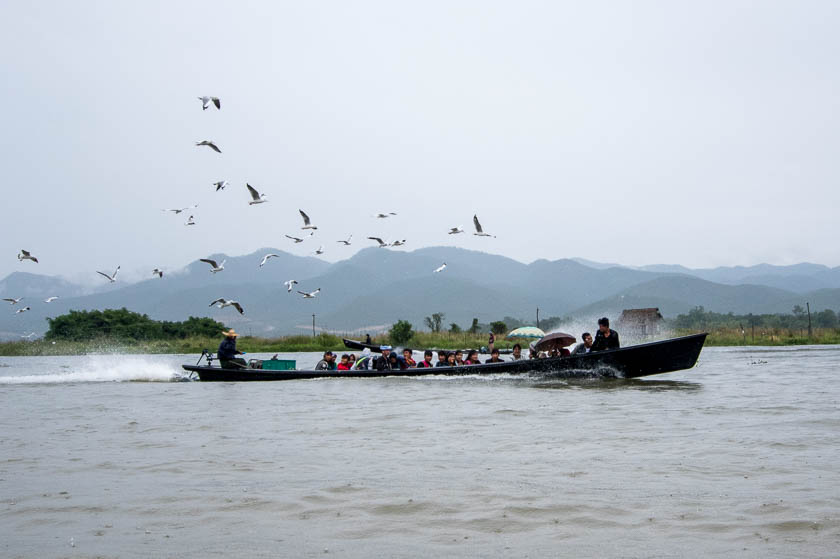 Here I watched this mama taking her daughter to school. This canoe did not have a motor, just a single oar paddled by the mama. I was not able to get a photo of the little girl going up the stairs to the school.
CRAFTS VILLAGES
Our first stop was a silk and lotus weaving village. This first photo is of a woman extracting fiber from lotus stalks. A four-inch section can yield 10 or more strands, three feet long. The strands are rolled together and spun to create a wonderful soft yarn, then woven into fabric worth a fortune. I was so impressed with the process that I bought a lotus and silk scarf for $50. The all lotus scarves were extremely more expensive.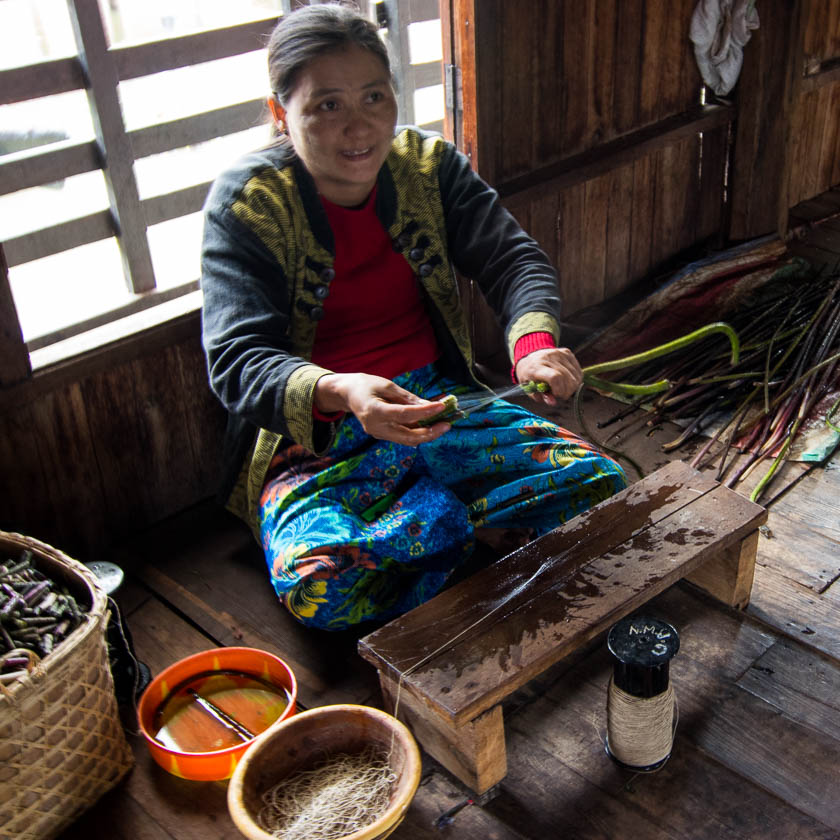 Silk was being strung on frames to be tie-dyed, then mounted on a loom to be woven with lovely soft traditional ikat designs. I was particularly interested in how this woman was squatting on the bench while weaving. I tried to talk to her about that and we both smiled. Asian people are used to squatting like this.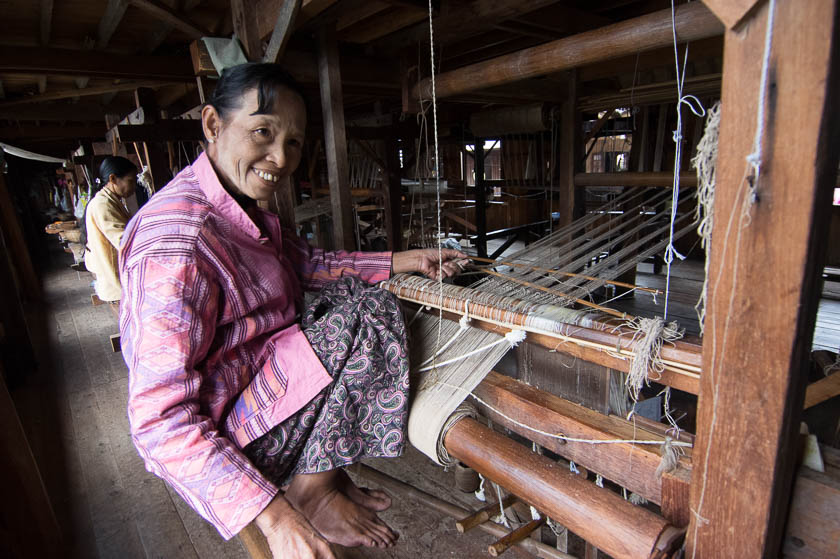 This is an example of an ikat design. After watching how they weave the fabric, it is no wonder that it is so expensive and coveted.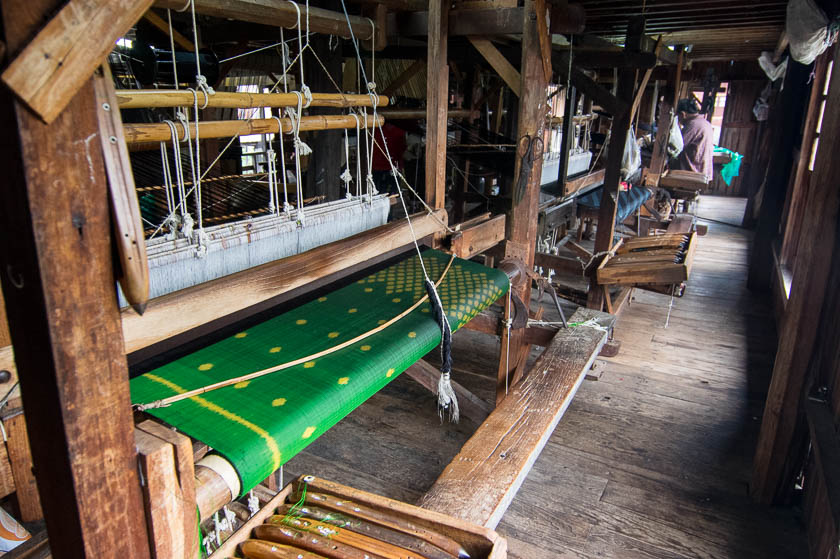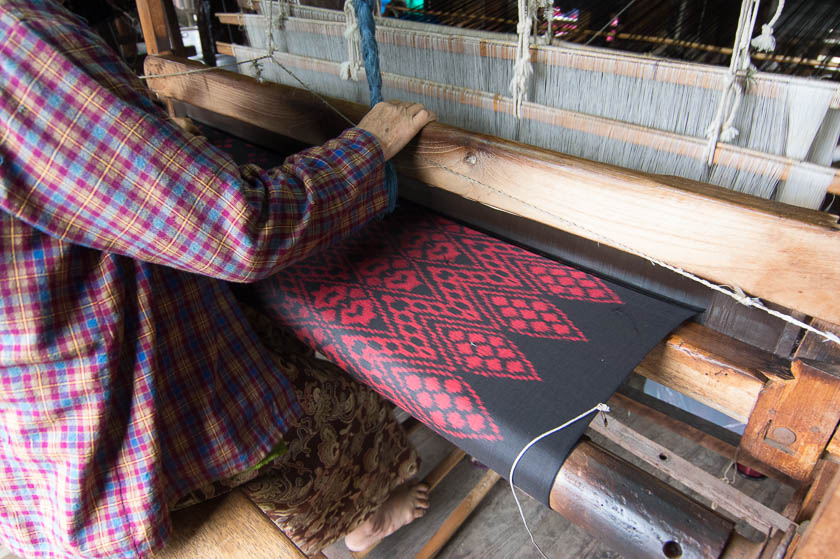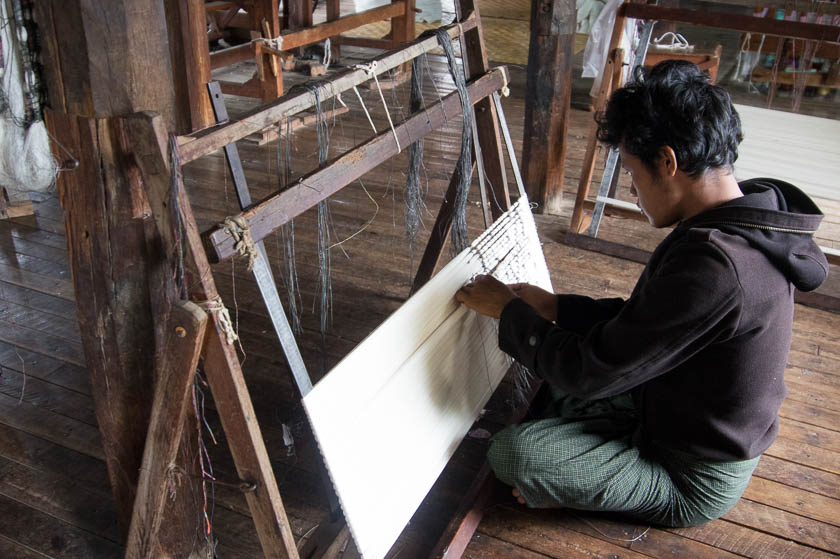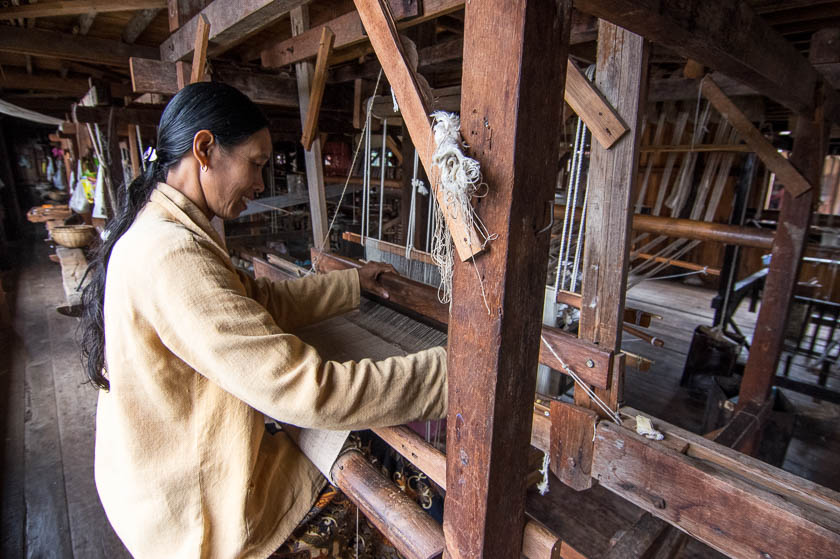 I loved this hair ornament.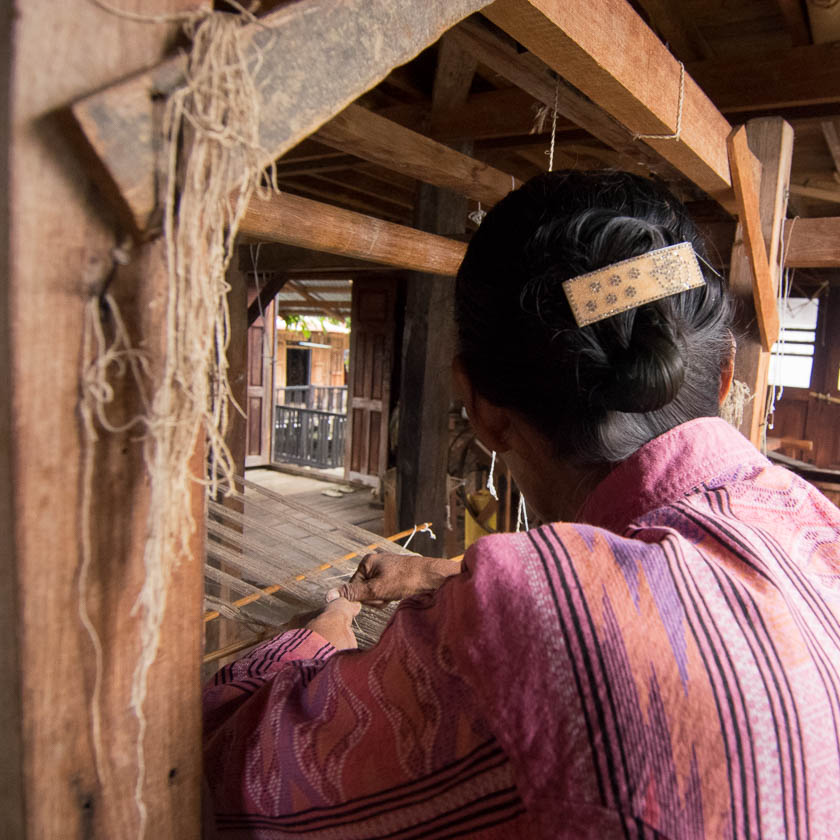 First I watched this woman sitting on the floor spinning yarn, matching colors, attaching strands, and keeping track of everything.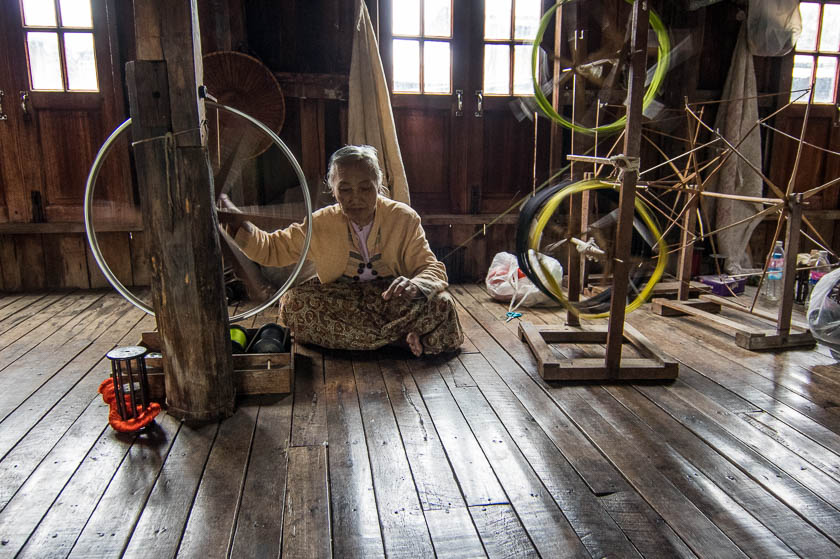 A bit later I saw her walking off. Wow, did her work contribute to the curvature of her back?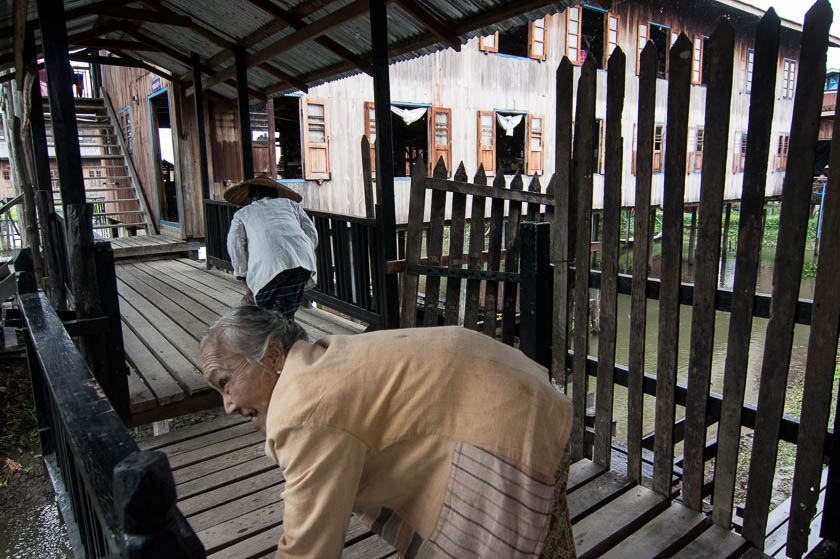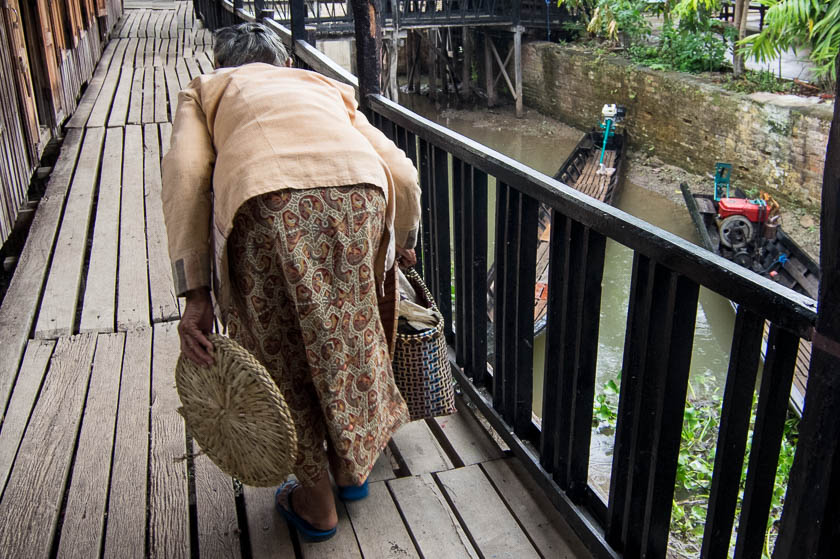 Our next stop was the blacksmith village where old truck springs are shaped into machetes and plow blades. This is done by heating the metal and pounding with heavy sledgehammers by three to four men simultaneously. Amazing how they can pound one after the other without hitting each other.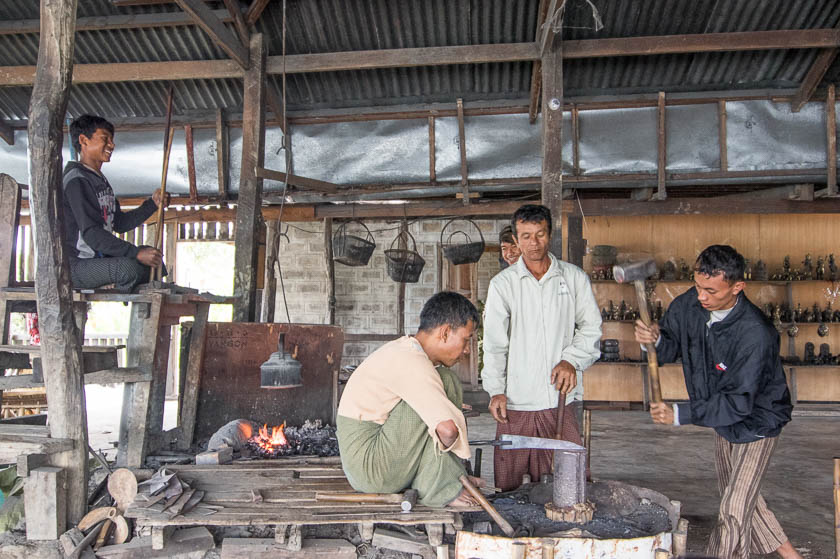 Here are several photos taken on Inle Lake, mostly around our hotel.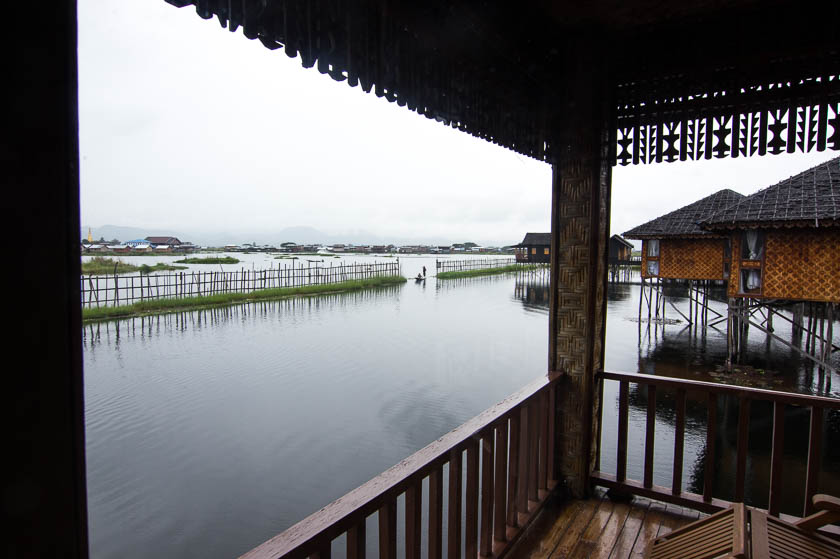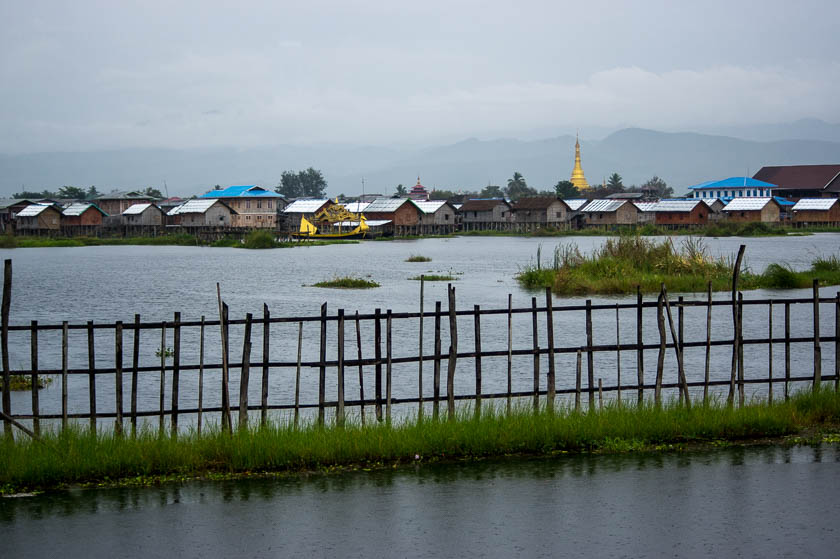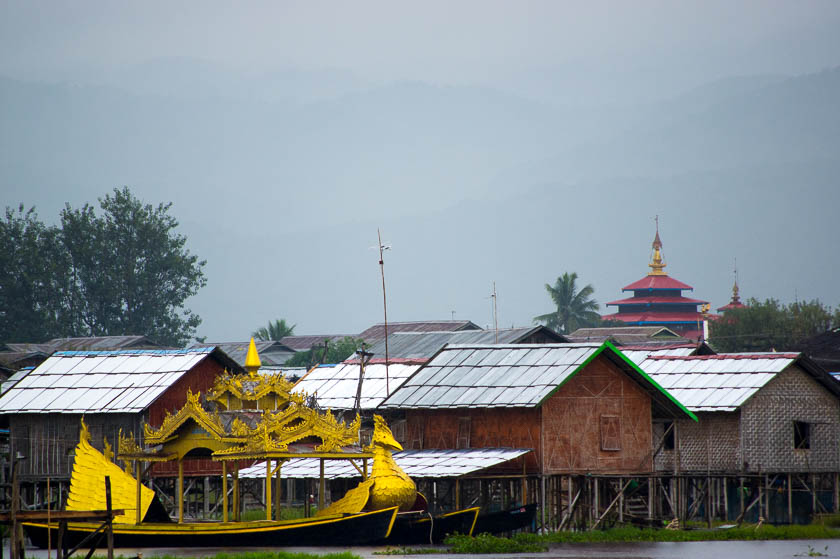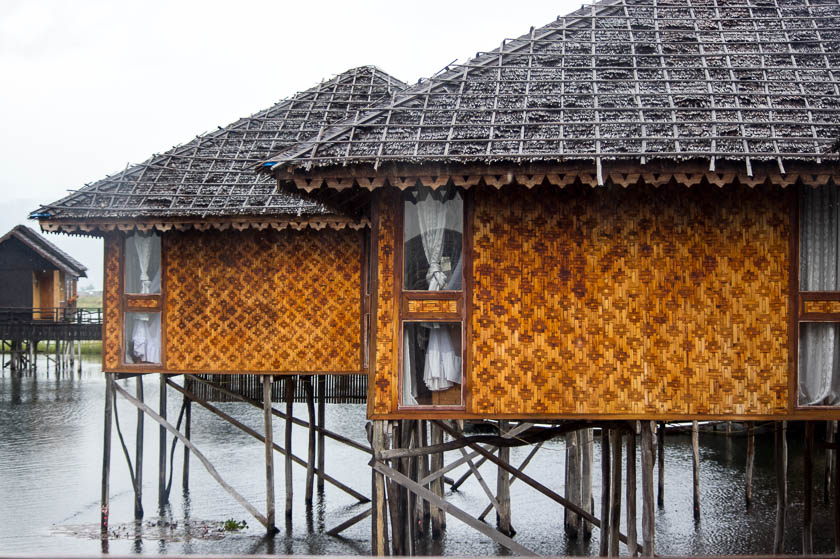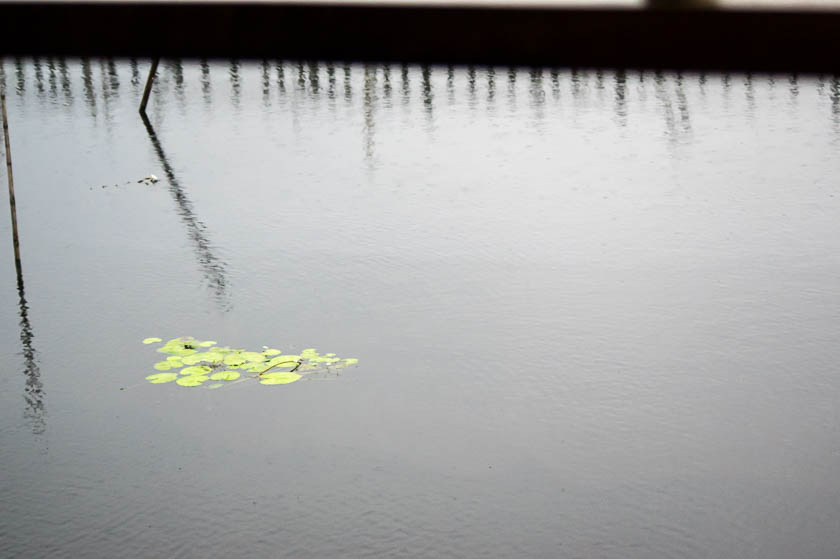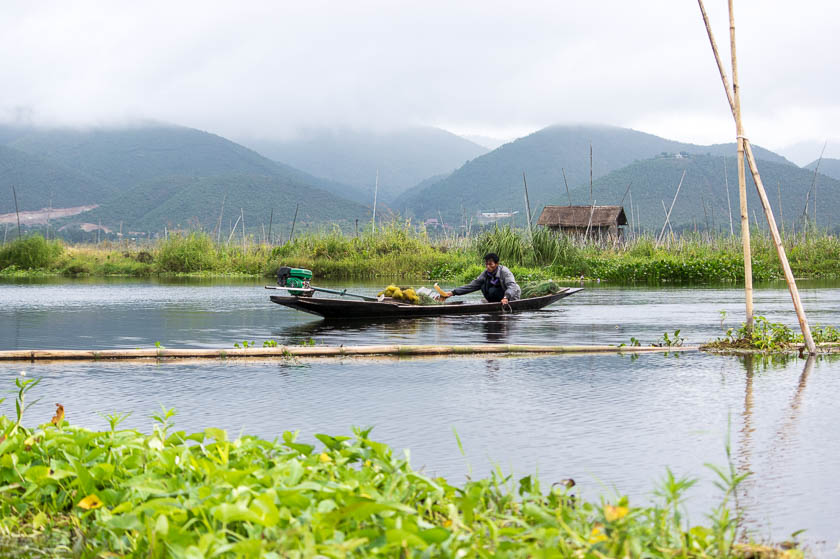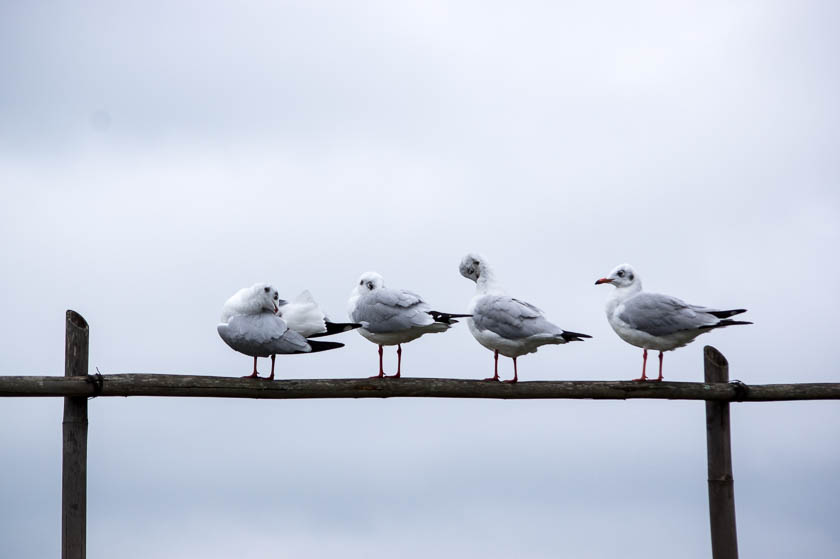 On our second day in Inle Lake, when it was unusually chilly and rainy, I saw a sign in the hotel that said "Massage, one hour 8,000 Kyat (Under $8). So instead of going by canoe to visit the water gardens I decided to get a massage. They give the massages in your room. When I asked at the desk, the attendant said it would be about 30 minutes because she had to call the masseur who would have to come from the village. As I waited in my cabin I took this photo of a guy in a canoe. Yes, that turned out to be my masseur. And the massage was good. I gave him $10 and he was delighted.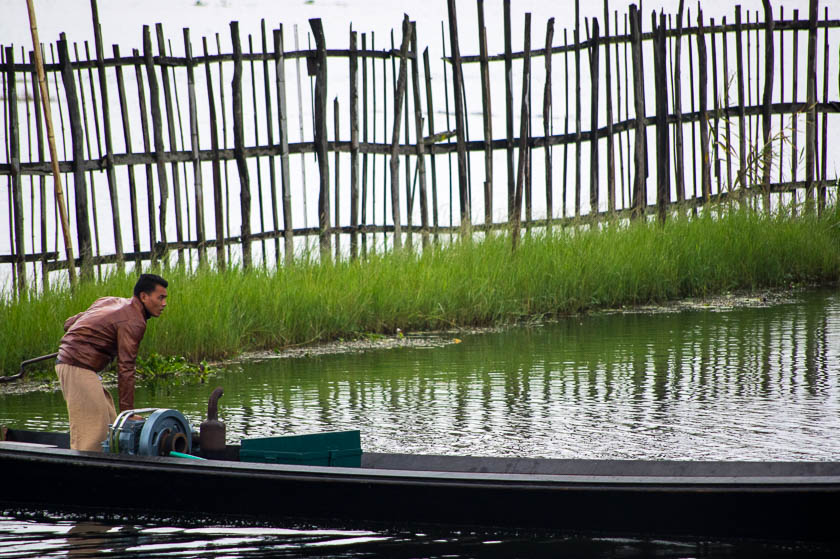 Here is a photo of a leg rower showing how he wraps one leg around the oar while the other foot is on the end of the canoe and his hands are free to do deal with his fishing net.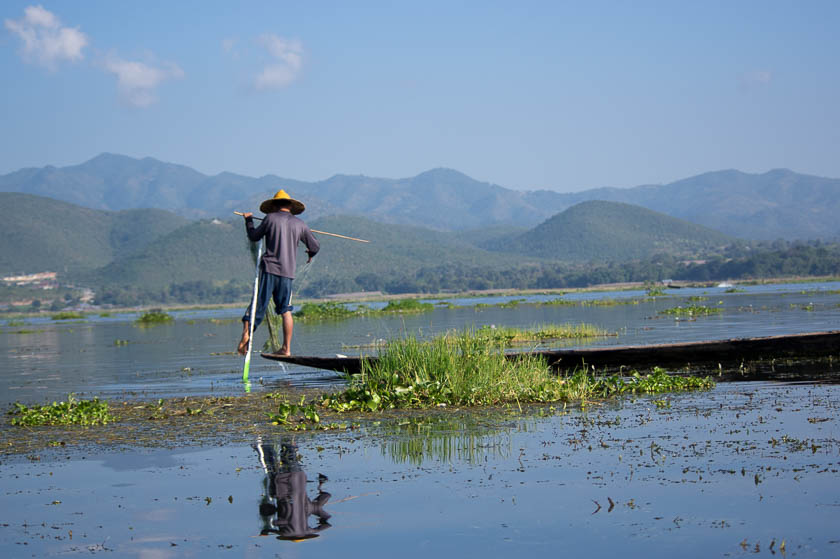 The amazing leg rowers.
These guys are taking water weed (sea weed) from the lake and will be using it to build up their gardens (water gardens) in Inle Lake.